"This is a first-of-its-kind installation in Malta"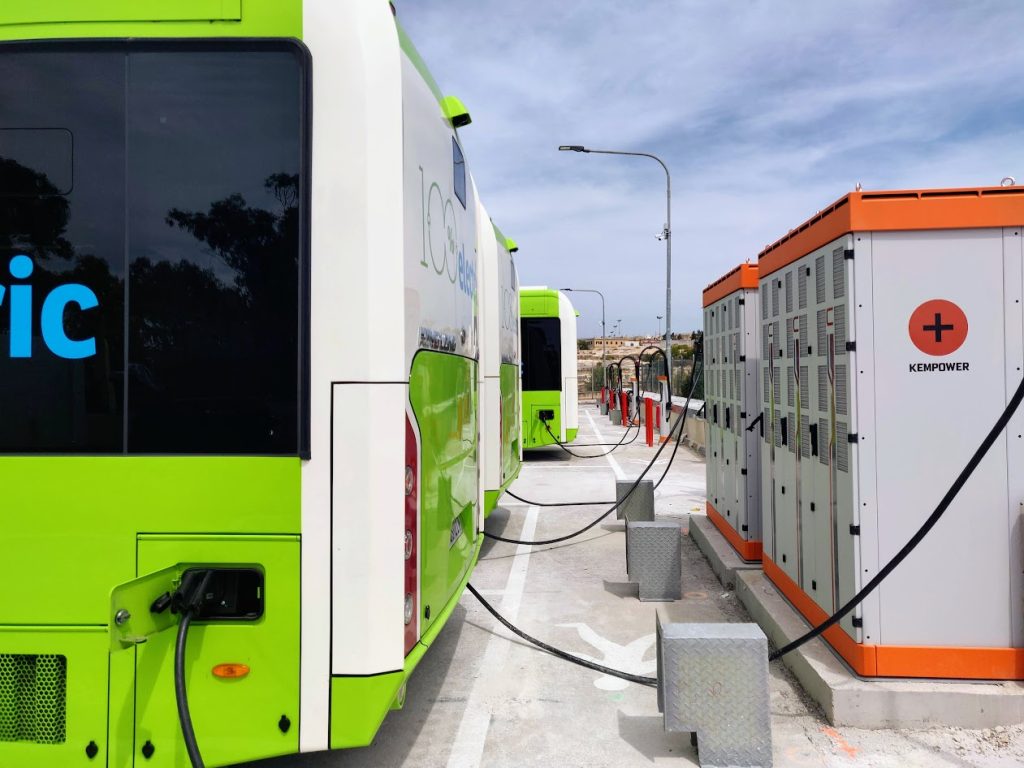 MARSA, MALTA – Malta's first electric bus charging depot has officially opened in the country. Leading DC fast charging solutions provider Kempower collaborated with its partner in Malta, EVPoint, to deliver DC fast charging infrastructure. 
Heavy-duty road vehicles are the largest source of transportation emissions in the EU, with trucks, buses, and coaches emitting roughly 200 MtCO2 annually. To reduce emissions from the sector, the European Commission has proposed making all new city buses zero-emission by 2030. To achieve this ambitious target, advanced, rapid EV charging infrastructure must be developed across the continent.
In line with Malta's ongoing efforts to comply with the EU's electrification targets, the Malta Public Transport, the body responsible for public transportation on the Maltese islands, engaged Kempower to power a new electric bus charging depot designed to serve a fleet of 27 electric buses.
The e-buses, supplied by the King Long Motor Group, are charged by Kempower Satellite charging systems, consisting of five 600kW Kempower Power Units and 15 Kempower Satellites. In addition, the company also acquired two Kempower Movable Chargers. ​​The installation of the charging infrastructure was overseen by EVPoint, Kempower's official representative in Malta.
Kempower has also provided its Kempower ChargEye for Depot charging management system. This cloud-based charging management system offers secure charging monitoring and management, minimizes charging electricity costs and dynamically distributes power to the chargers, eliminating the potential for overcapacity.
"With net zero a top priority across Europe, electric bus depots are becoming the new normal. It's our pleasure to help Malta develop its first dedicated electric bus depot by providing our charging solutions. Our future-proof solutions are ready to grow alongside Malta's fleet of e-buses, with our Kempower Power Units capable of supporting an additional 10 CCS2 connectors when the time is right to scale up charging infrastructure at the depot", said Kempower's Chief Sales Officer, Tommi Liuska.
"At EVPoint, we are proud to be associated with this important investment in a cleaner and more sustainable future for Malta's public transport service. As Kempower's official partner in Malta, we are also proud that this project has chosen Kempower's solution because this not only positions us as a leading player in the growing EV sector but reinforces our commitment to playing an active role in the country's e-mobility transition",said Alfred Camilleri, Managing Director at EVPoint.

Kempower in brief

We design and manufacture reliable and user-friendly DC fast-charging solutions for electric vehicles. Our vision is to create the world's most desired EV charging solutions for everyone, everywhere. Our product development and production are based in Finland, with the majority of our materials and components sourced locally. We focus on all areas of e-mobility, from electric cars, trucks, and buses to machines and marine. Our modular and scalable charging system and world-class software are designed by EV drivers for EV drivers, enabling the best user experience for our customers around the world. Kempower is listed in the Nasdaq First North Growth Market Finland. 

EVPoint in brief

​​​EVPoint is a Malta based company focused on providing electric vehicle charging solutions for residential, commercial, public charging, and fleet customers. By partnering with leading international brands it assists clients throughout their journey, offering expert consultancy, comprehensive project management, seamless installation & commissioning, and ongoing after-sales support.
"Governments and companies continue to face mounting pressure to meet their ESG
requirements but the good news is that their appetite for investing in EVs seems to be
growing," says Alfred Camilleri, Managing Director of EVPoint, a specialised company
in electric vehicle charging solutions for homes, businesses and fleet operators.
EVPoint delivered its first flagship project, a DC charging hub for Malta
Public Transport's fleet of electric buses.

"This project supports the fact that effective promotion of sustainable transportation, not
only makes it imperative for governments and businesses to provide adequate support
for investments in EV infrastructure but to also lead by example. This is why this project
represents a tangible investment in a cleaner and more sustainable future for Malta's
public transport service," he added.

The 3 MW system which can take up to 30 buses concurrently, is the first of its kind in
Malta. It is powered by Finnish brand Kempower, represented in Malta by EVPoint, a
brand considered at the international forefront in the production and supply of DC
charging systems for commercial vehicles and public transport.

"MPT chose Kempower's solution for this important project due to Kempower's system
of power modules and satellites which offer a dynamic and flexible change
management software that adapts the power according to the individual buses'
respective schedules and routes, allowing MPT to make the most of the power
available," explains Alfred Camilleri.

"This investment will hopefully play a pivotal role in dispelling current misconceptions
surrounding this transformative technology. As such, education will have to play a
critical role in driving the adoption of EVs by providing comprehensive information that
empowers consumers to make informed decisions, foster a public policy that prioritizes
e-mobility, and continue to invest towards a qualified workforce. Only a combination of
these efforts can accelerate the adoption of EVs and pave the way for a greener and
more sustainable future," concluded Mr Camilleri.